VAUBAN SYSTEMS completes its offer by offering you the PDA ACCESS.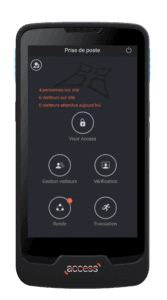 Used with the VISORCHECK application for example it is the guarantee of optimal security for a manager site!
So what is ACCESS?
A rugged smartphone with many features, ideal for access control jobs!
Its compactness and modern design give this new PDA a very wide range of functions:
👉 Easy to use, with refined ergonomics and aesthetics, ACCESS is a product designed to support your teams on all terrains.
👉 Equipped with a 5 inch capacitive touch screen and featherweight (270 grams battery included) it is very popular with users for its intuitive use. Designed to meet sectors such as access control or secure identification, ACCESS is a robust professional terminal, configurable and equipped with powerful technological components which offers excellent performance: processor OctaCore @ 2.2 GHz, Android 10 operating system, built-in GPS, 1D / 2D imager, etc.
👉 It has a Secure Element which secures from end to end the data captured and / or transmitted to the Host. A processor with internal memory and advanced cryptography functions, the Secure Element is protected against intrusions both software and hardware. The component literally self-destructs when it detects the slightest attack attempt. Secure Elements are currently considered inviolable. A SAM (Secure Access Module) also complements this data security requirement.
👉 The connectors "Pogo Pin" located at the back of the terminal allow you to consider a multitude of possibilities to meet your business needs UHF RFID module, iris sensor, temperature sensor, etc.
👉 ACCESS is an ideal PDA for all your real-time identification requirements of secure identity documents (identity verification, border control, etc.). It can easily respond to the problems ofIdentity Management with its NFC module, facial recognition via its camera and the possibility of iris recognition through an additional sensor.
👉 All the technical characteristics of this new ACCESS terminal also provide strong technological answers to the problems of the mobile access control sector: hosting and protection of sensitive data, compatibility with the main software solutions in this sector which interface perfectly with the various Security Centers from market leaders.