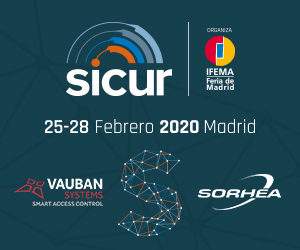 VAUBAN SYSTEMS AND ITS PARTNER SORHEA EXHIBIT AT THE SICUR FAIR IN MADRID!
Find two Companys of the Vitaprotech group on stand 10A55 at the Sicur trade show in Madrid from February 25 to 28, 2020.
Sorhea European leader in perimeter intrusion detection and VAUBAN SYSTEMS expert in the manufacture of ergonomic access control solutions join forces to offer you a global offer at the SICUR fair, a major international benchmark in security in Spain.
Every two years, the fair brings together companies, associations, professionals and users of global security in the public and private spheres of Madrid who exhibit their latest innovations and technological development in the field of security.
Come and discover our reliable, innovative and accessible access control solutions that will meet your needs!
For more information on the fair it is by here
To order your badge now, it's by leaves
To obtain a free invitation enter the code: SC202239435HE
.................................................................................................................................... ......................
¡VAUBAN SYSTEMS Y SU SOCIO SORHEA EXPONEN EN LA FERIA SICUR IN MADRID!
Encuentre dos empresas del grupo Vitaprotech en el stand 10A55 en el salòn Sicur de Madrid del 25 al 28 de febrero de 2020.
Sorhea, líder europeo en detección de intrusos perimetrales, y VAUBAN SYSTEMS, expert in the manufacture of ergonomic solutions for access control, is one of the most important global deals in SICUR, an important punto de referencia internacional en seguridad en España.
Cada dos años, el salòn reúne a empresas, asociaciones, profesionales y usuarios de la seguridad global en los ámbitos público y privado de Madrid que exhiben sus últimas innovaciones y desarrollo tecnológico en el campo de la seguridad.
¡Ven y descubren nuestras soluciones de control de acceso trustable, innovadoras y accesibles que satisfarán tus necesidades!
To get my information and program, está here
Para pedir su insignia ahora, está here
Código pase gratuito: SC202239435HE